Simple Pot Roast
05 Oct
Posted by: Greg in: Recipe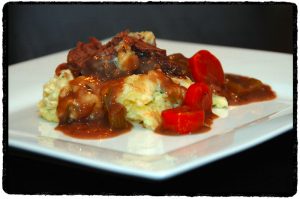 This was the first recipe I made in my new Le Creuset Dutch Oven

and what a difference it made! The Le Creuset Dutch Oven, actually they call it a French Oven, is made of porcelain enamel cast iron which is unexcelled for its heat distribution and retention, this French oven cooks foods evenly and gently without hot spots at low temperatures.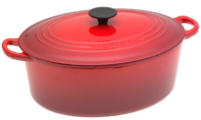 INGREDIENTS
1 chuck-eye roast(about 3 1/2 pounds), boneless
Table salt and ground black pepper
2 tablespoon vegetable oil
1 medium onion, chopped medium
1 small carrot, chopped medium
1 small rib celery, chopped medium
2 medium cloves garlic, minced
2 teaspoons granulated sugar
1 cup low-sodium chicken broth
1 cup low-sodium beef broth
1 sprig fresh thyme
1 ½ cups water
¼ cup dry red wine
1. Adjust oven rack to middle position and heat oven to 300 degrees. Thoroughly pat roast dry with paper towels; sprinkle generously with salt and pepper.
2. Heat oil in large heavy-bottomed Dutch oven over medium-high heat until shimmering but not smoking. Brown roast thoroughly on all sides, reducing heat if fat begins to smoke, 8 to 10 minutes. Transfer roast to large plate; set aside. Reduce heat to medium; add onion, carrot, and celery to pot and cook, stirring occasionally, until beginning to brown, 6 to 8 minutes. Add garlic and sugar; cook until fragrant, about 30 seconds. Add chicken and beef broths and thyme, scraping bottom of pan with wooden spoon to loosen browned bits. Return roast and any accumulated juices to pot; add enough water to come halfway up sides of roast. Bring liquid to simmer over medium heat, then place large piece of foil over pot and cover tightly with lid; transfer pot to oven. Cook, turning roast every 30 minutes, until fully tender and meat fork or sharp knife easily slips in and out of meat, 3 1/2 to 4 hours.
3. Transfer roast to carving board; tent with foil to keep warm. Allow liquid in pot to settle about 5 minutes, then use wide spoon to skim fat off surface; discard thyme sprig. Boil over high heat until reduced to about 1 1/2 cups, about 8 minutes. Add red wine and reduce again to 1 1/2 cups, about 2 minutes. Season to taste with salt and pepper.
4. Using chef's or carving knife, cut meat against the grain into 1/2-inch-thick slices, or pull apart into large pieces; transfer meat to warmed serving platter and pour about 1/2 cup sauce over meat. Serve, passing remaining sauce separately.